Welcome to the
Yoga for All Bodies™ Level 1 Teacher Training

The next Cycle starts on January 5th 2024! Enrollment is now open with an early bird discount and partial scholarships!
Learn in this 7 weeks online specialty training for Yoga Teachers (and movement specialists), how to teach in an inclusive, welcoming, accessible and trauma-informed way through Yoga variations that serve all minds and bodies no matter their size, shape, age, abilities, life story, or experience with the practice.
Learn the tools to teach from a place of freedom and exploration to give the power back to your students! Enroll now!
IN THIS TRAINING YOU WILL LEARN:
– How to teach by offering Yoga Variations and not modifications, to make all your students feel welcome, seen, included, and part of your classes!
– How to teach from a place of freedom promoting exploration, agency, and giving the power back to your students! as I always say: their body, their mind, their practice! 
– How to teach from a Trauma-Informed perspective in which what, how, and when you say it matters!
– How to share yoga with diverse populations such as larger bodies, older adults, wheelchair users, people with disabilities visible or invisible, and more!
– Tools to make your offerings (classes, workshops, and trainings live or online) inclusive, welcoming, and accessible to all bodies!
– Variations of popular yoga poses standing, using props, seated on a chair, seated on the mat, and laying on the mat for you to teach inclusive classes for diverse students.  
– How to sequence classes that serve and honor diversity.
– The importance of props ( how to use them to create variations and why to, always, teach using them!)
– Tips to market your offerings and share your message with the world in an effective way to build your yoga business (Your way! yes yes yes!!).
MORE DETAILS ABOUT THIS PROGRAM AND ITS FORMAT:
– This Online Teacher Training is 7 weeks long.
– The 40 hours of this training include: 7 Live Zoom Sessions (approx 2 hours each) happening on Fridays at 9.30 am PST/ 12.30 pm ET starting Friday, January 5th, 2024. The replay will be sent the same day if you can't join live!
 – It also includes self-paced pre-recorded content + weekly homework (Practice teaching, reflection, and watching the pre-recorded lectures and videos)
– Approximately a 4.5-hour weekly commitment is expected. 
– The Live Zoom Sessions will happen the following Thursdays at 9 am PST/12 pm ET (the replay will be sent the same day!):
– Friday, January 5th, 9.30 am PST / 12.30 pm ET
– Friday, January 12th, 9.30 am PST / 12.30 pm ET
– Friday, January 19th, 9.30 am PST / 12.30 pm ET
– Friday, January 26th, 9.30 am PST / 12.30 pm ET
– Friday, February 2nd, 9.30 am PST / 12.30 pm ET
– Friday, February 9th, 9.30 am PST / 12.30 pm ET
Break to complete the final assignments for certification
– Friday, March 8th, 9.30 am PST / 12.30 pm ET
– You will be able to download and print the weekly material, and at the end of the training, a complete manual/slides with all the content from this training will be available for you to download.
– You will have access to the training materials (videos, replays, and documents) during the 7 weeks of this training. You can download everything if you want to keep it forever for personal use, but you have to do it during the training.    
– Final assignment for certification: Create a written 60-minute class offering yoga variations through inclusive, welcoming, and invitational language and sequencing + a short video (5 mins) of you teaching your favorite yoga variations! You will have one month (1 month) after the end of the training to complete these assignments and get certified!  
– After completing all the requirements, you will become a Certified Yoga for All Bodies™ – Level 1 Teacher and receive 40 CEUs with Yoga Alliance. A
YES! THIS TEACHER TRAINING IS FOR YOU!
– Are you ready to broaden your tools as a yoga teacher?
– Are you a Yoga Teacher that believes that yoga needs to be truly accessible, inclusive, welcoming for All Bodies and Minds? 
– Do you want to change things in the yoga world? How yoga is currently presented and the messages that even though, have been traditionally accepted, perpetuate harm and exclude diverse populations? 
Then this training is for you! yes yes yes!!!
READ WHAT THE YOGA TEACHERS THAT PARTICIPATED IN PREVIOUS CYCLES OF THIS TRAINING ARE SAYING: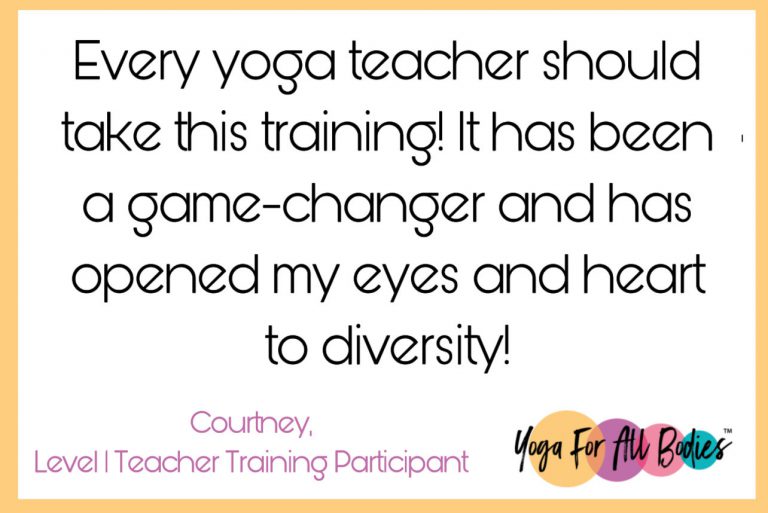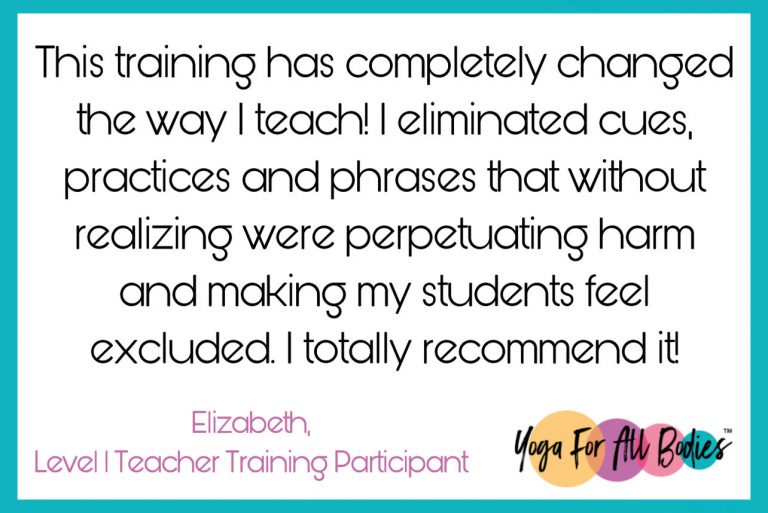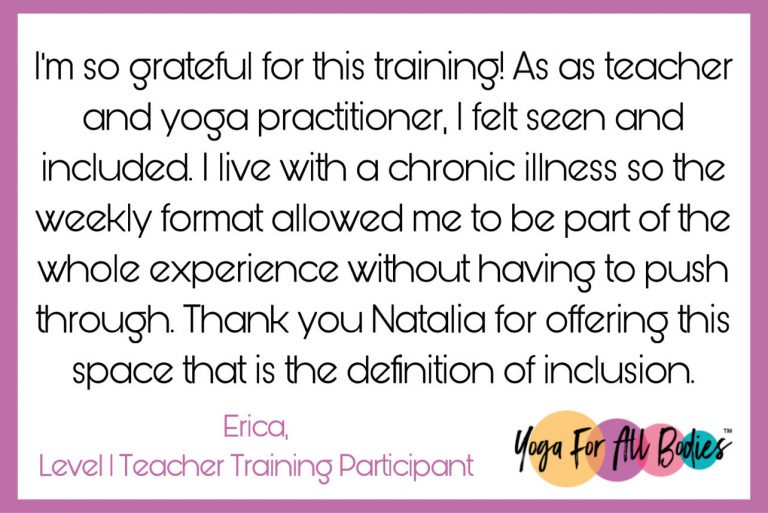 MORE DETAILS ABOUT THIS TEACHER TRAINING:
– Prerequisites: This Level 1 Teacher Training is open to all the Yoga Teachers that want more tools to support their students and that want to make the practice more accessible, welcoming, and inclusive to all bodies! A 200 Hours Training Certificate (or be taking A 200 YTT) is required. Feel free to reach out if you hold other movement credentials/certifications and you're interested in taking this training.   
– This Training counts as 35 Continuing Education Hours with Yoga Alliance (CEUs). The participant must complete the Live Sessions or Replays + Pre-recorded content + Assignments up to one (1) month after the training to receive your certificate.
– What happens if I can't join live but I want to participate in this training? In case of not being able to join the live sessions, the participant must watch the replays, the pre-recorded content, complete the homework, and final assignment in the same period as all the participants, to receive the Continuing Education Hours and diploma.
– What happens after I enroll?: After you register you will receive the dates and times of the live sessions, and a form you need to complete with your information and your 200 hours Yoga Teacher Training Certificate (or equivalent). 1 week before the start of the training you will receive, via email, the content you need to watch before our first meeting. 
–  If due to force majeure reasons a student can't participate in the training, it is their responsibility to notify Yoga for All Bodies™ at least 1 month (30 days) prior to the start of the training in order to get a partial refund or change their enrollment to an upcoming cycle. (The reservation fee is not refundable).
30 days before the start of the training all sales are final, if you can't make it live you will receive all the replays and have access to all the material from this training for you to download or watch.  More info on the FAQs Page.
– Do you have more questions? Visit the FAQs page or write me at natalia@yogaforallbodies.com 
READ WHAT THE YOGA TEACHERS WHO HAVE STUDIED WITH ME ARE SAYING!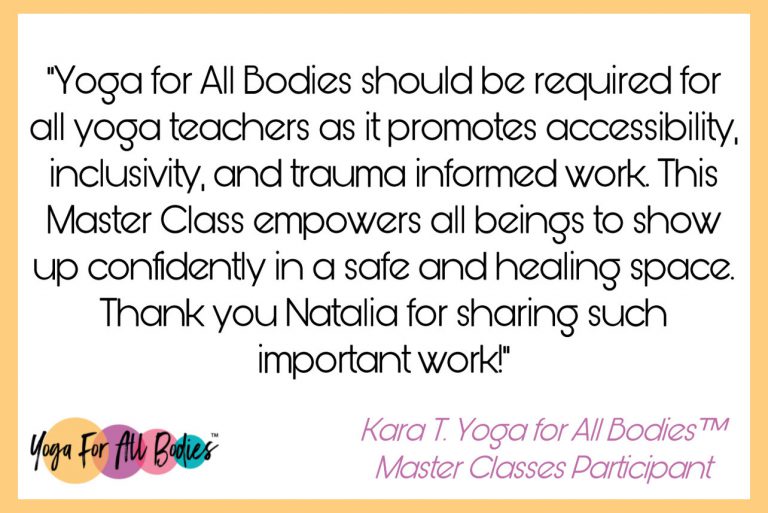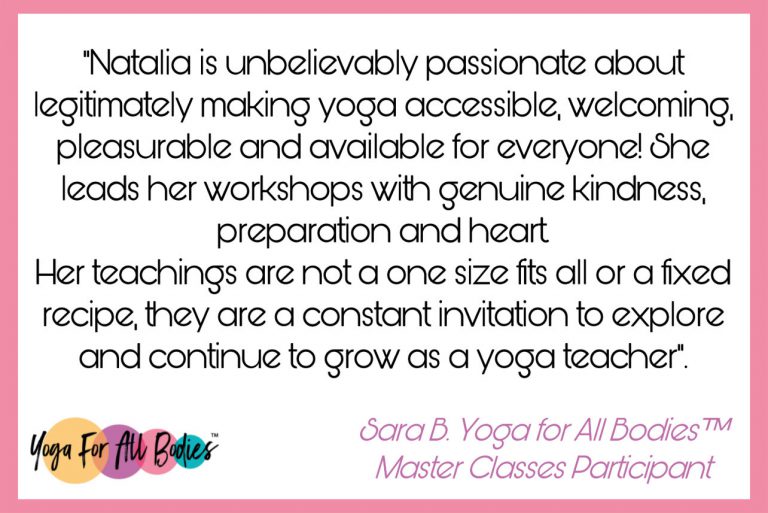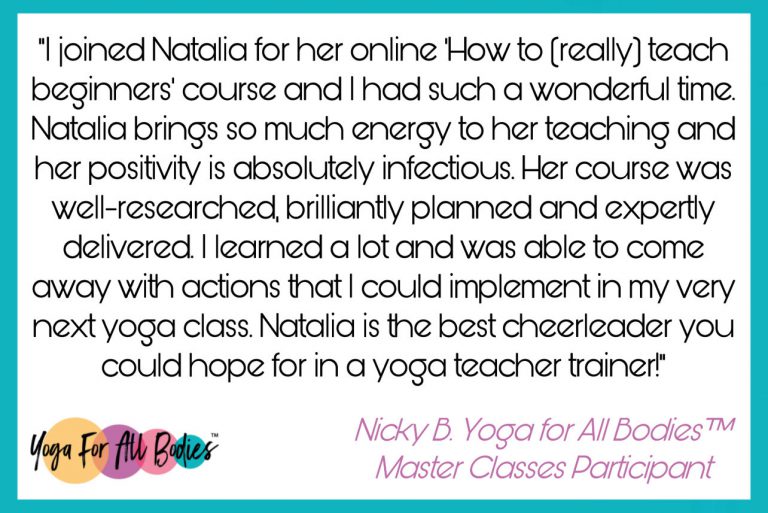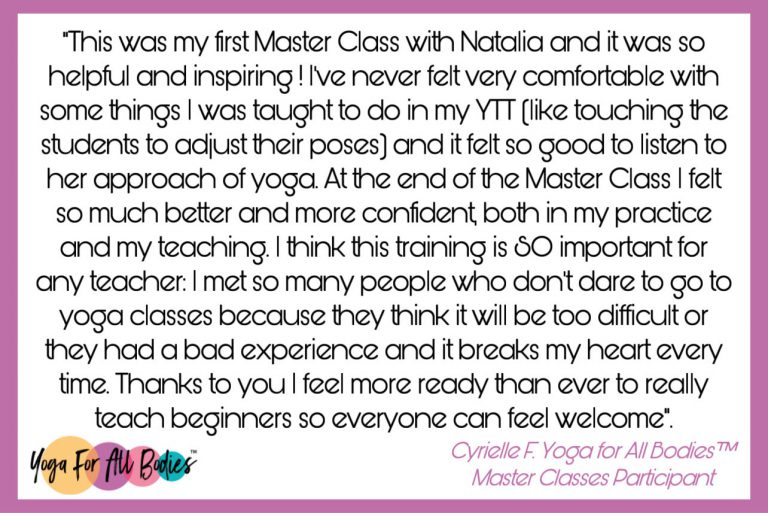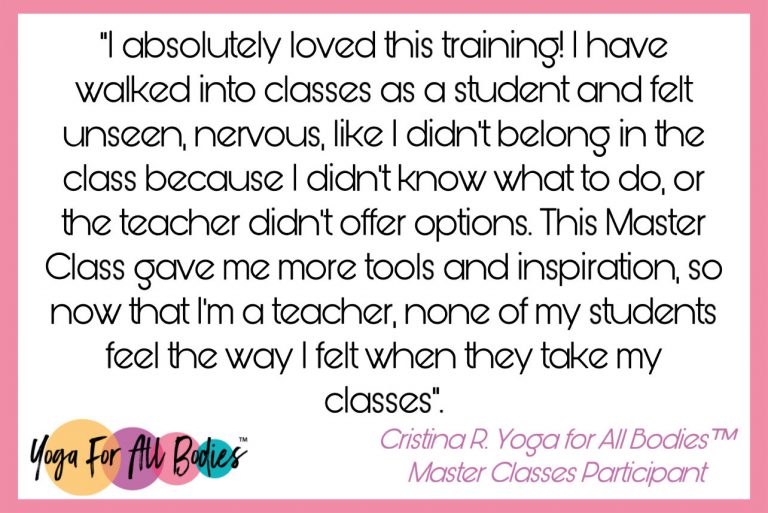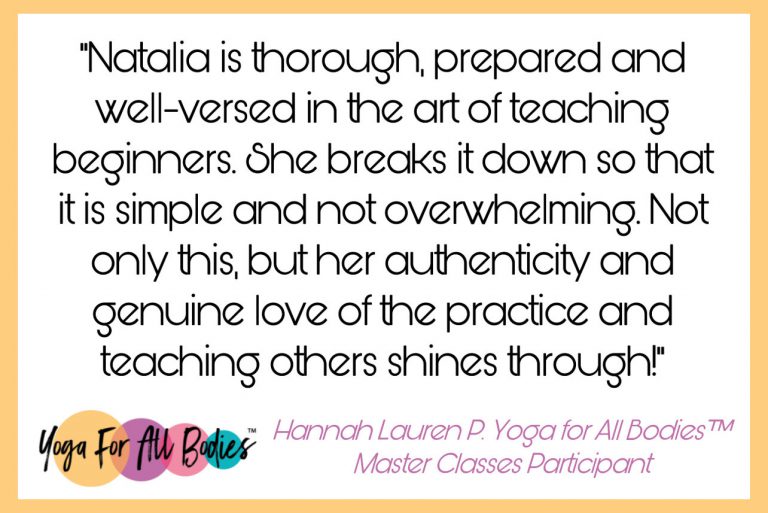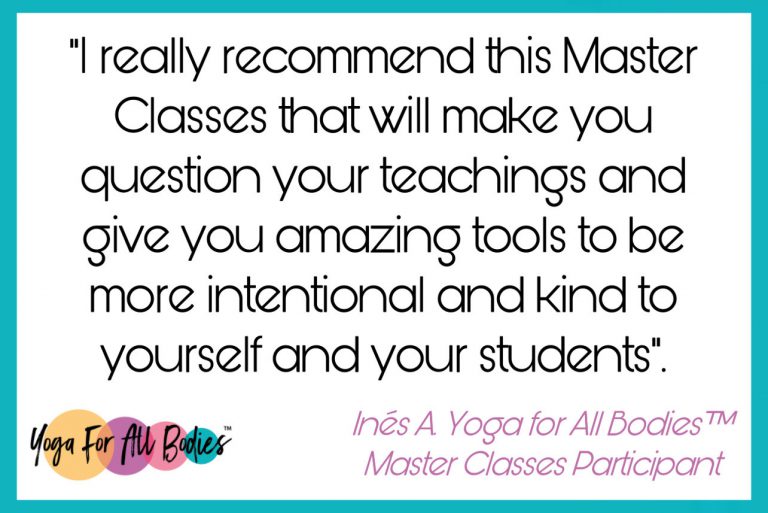 YES! I'M READY TO LEARN MORE TOOLS TO TEACH IN AN INCLUSIVE, ACCESSIBLE AND WELCOMING WAY!
*All Prices are in USD. Payment plans are available, visit the FAQs page for more info and write to natalia@yogaforallbodies.com to request more details and info about partial scholarships. 
The Early Bird price is $550 USD and will be available until October 31st, 2023, after that date the regular price will be $650 USD. 
HOLA AND HELLO! MEET YOUR TEACHER: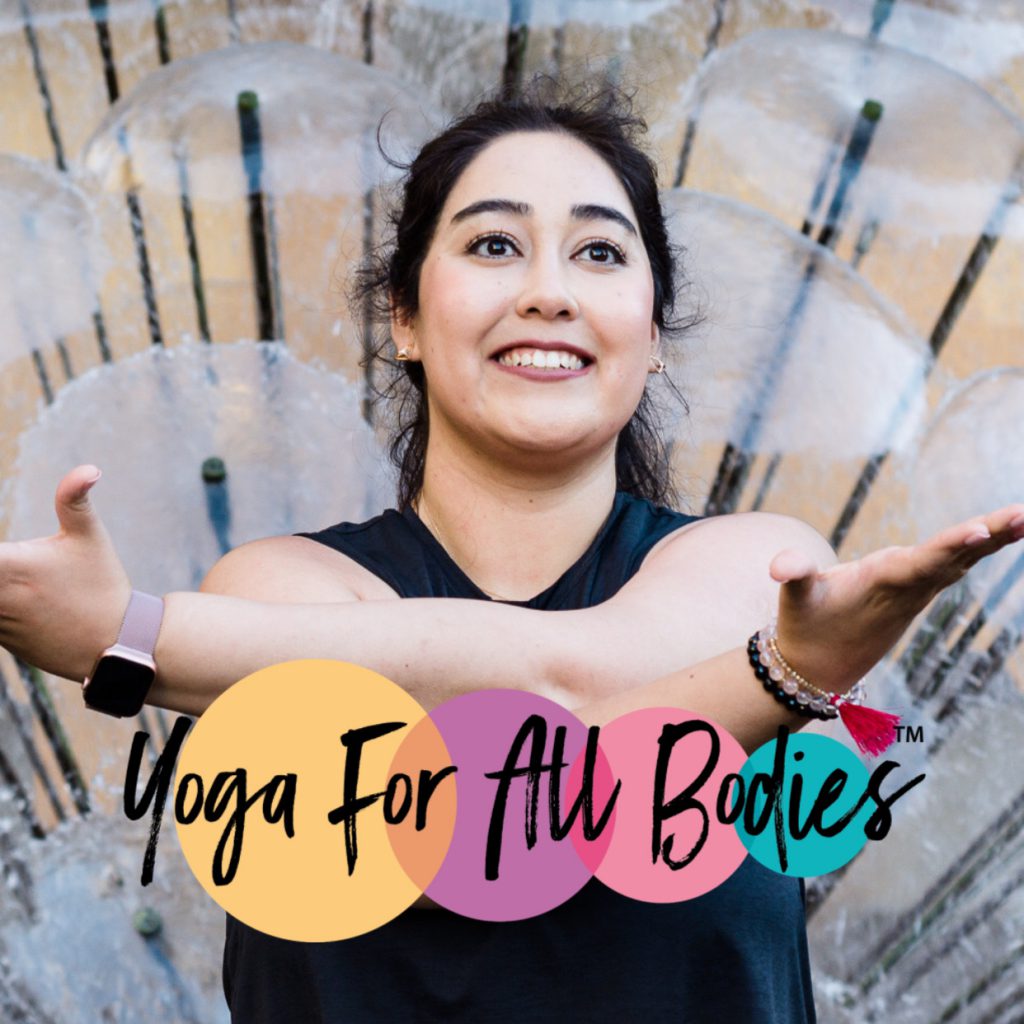 I'm Natalia Tabilo a Body Positive 500 RYT yoga teacher, Latina, Journalist, and communications specialist, and the founder of Yoga for All Bodies™. 
Yoga has helped me become friends with my mind and body and that's why I want to share it with others. After feeling left out and unseen in yoga classes, I decided to create Yoga for All Bodies™, an inclusive and accessible practice based on variations and choices to meet and enjoy your body where you are today. 
I'm certified in Vinyasa, Yoga for All, Prenatal and Postnatal Yoga, Accessible Yoga, The Roll Model Method, Restorative, Yin, Trauma-Informed Yoga, Somatics, Yoga for Mental Health, Yoga for Chronic Pain, and more! 
In 2021 I was featured as a "Game Changer in Yoga" by Yoga Journal and in 2023 I received the award "Ambassador of the year" by the Accessible Yoga Association. 
Got more questions? write to me at natalia@yogaforallbodies.com