Welcome to the
Yoga for All Bodies™ Mentorship: Business + Branding
5 weeks of group Mentorship to find your niche, start your online presence, learn the tools to share your unique message with the world, and build your authentic brand to really stand out as a Yoga Teacher with Natalia Tabilo, the founder of Yoga for All Bodies™!
 The next cycle will happen in June 2021! join the waitlist to be the first to know when enrollment opens!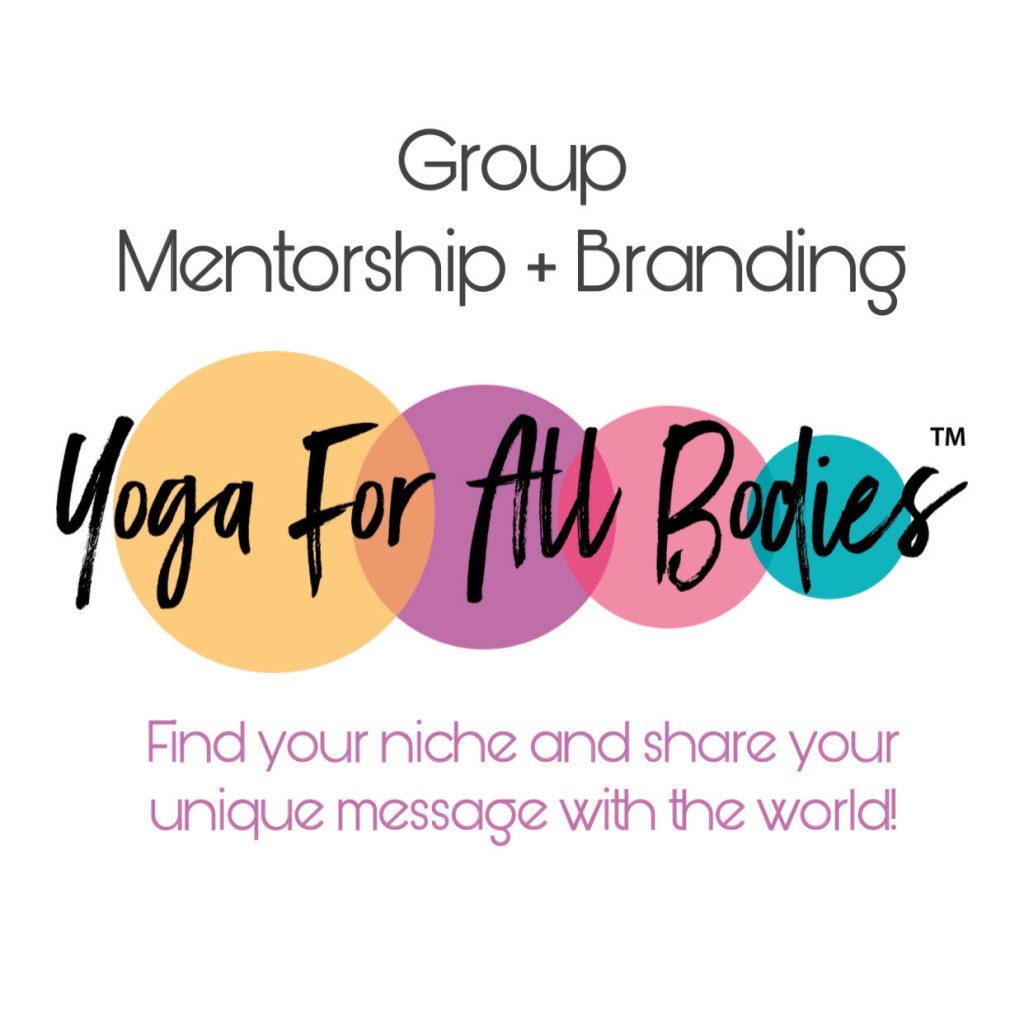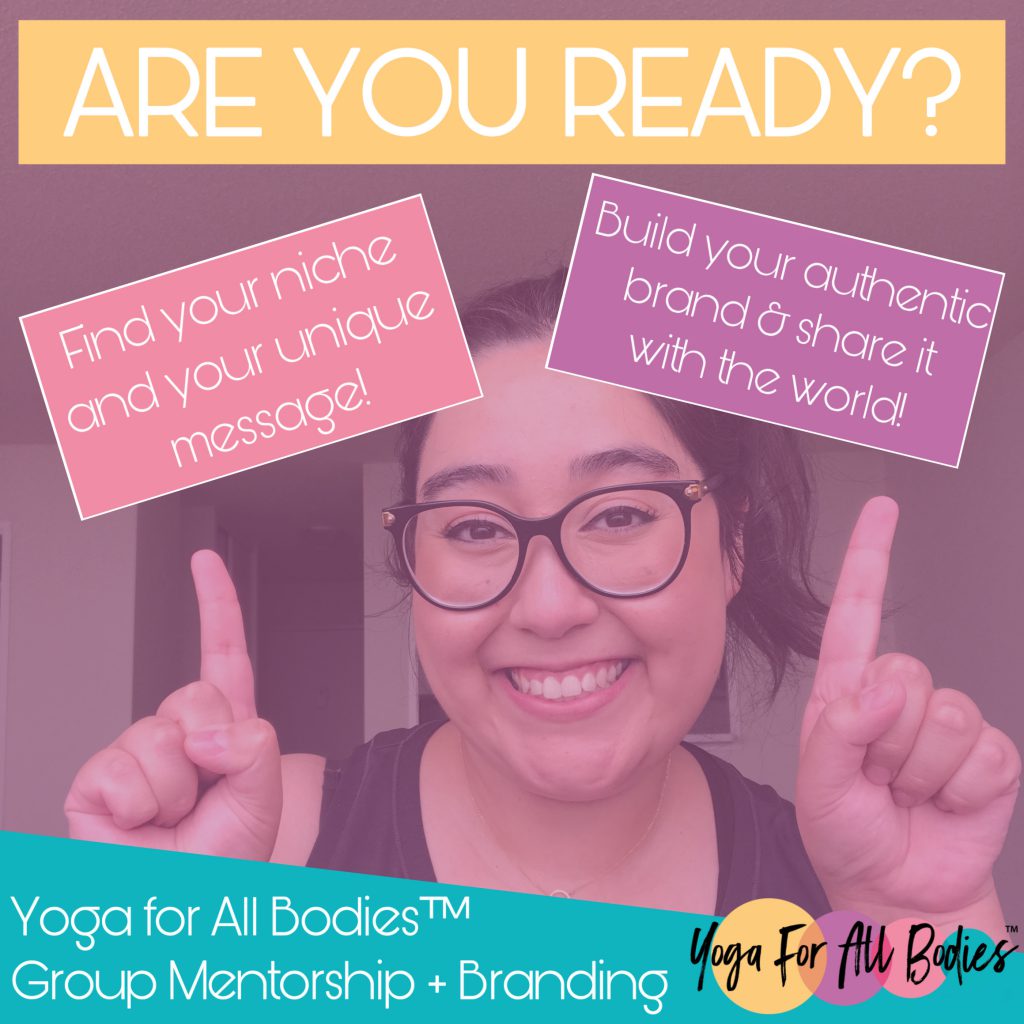 DURING 5 WEEKS YOU WILL LEARN:
No matter the style you teach (Vinyasa, Hatha, Yin, Restorative, Iyengar, Power Yoga and more!) you will learn:
– How to put in action and start sharing with the world everything you learned in your YTT (and more!)
– The foundations to build a remarkable, authentic, long-lasting, and trustworthy brand
– How to find your niche and unique message
– How to create your authentic brand to stand out from the crowd and attract your people
– How to build your online presence (Social Media, Landing Pages, Online Teaching, email marketing and more!!)
– The tools to share your unique message: how to edit your photos, videos (also how to lose the fear of being on camera!)
– How to share your message, offerings, classes, and show up for your people in an authentic, accessible, welcoming, ethical and inclusive way! (Just like I do it in Yoga for All Bodies™!)
You will also build community while investing in your dreams!
HOW EXACTLY DOES THIS GROUP MENTORSHIP WORK?
– We will meet via Zoom every Tuesday at 9.00 am PST, starting on January 5th. The last meeting will be on February 2nd.
– There will be a replay available in case you can't make it to the Livestream (But I truly recommend joining the live call so you can get real time feedback and answer all your questions with me)
– During each call, we will dig deep on the most important aspects needed to create your unique brand as a yoga teacher. The meeting will include a workshop aspect, in which you will work, create, and get instant feedback! Also, some homework, to get the most out these 5 weeks!
– I will be monitoring your progress in your social media and online presence (Website, landing pages, newsletters, and more!) and giving you suggestions.
– You will have lifetime access to the Private Facebook Group! You can post any questions that may come up during the week. All questions will be answered within 24 hours. This group is also amazing to connect with other members! yay!
– Each meeting will last approximately 1 hour and 30 minutes (I will stay connected until all your questions are answered! My commitment is to you, and helping you build your own and authentic brand)
– You will have lifetime access to the material of the program!
– Do you have more questions? just send me an email: natalia@yogaforallbodies.com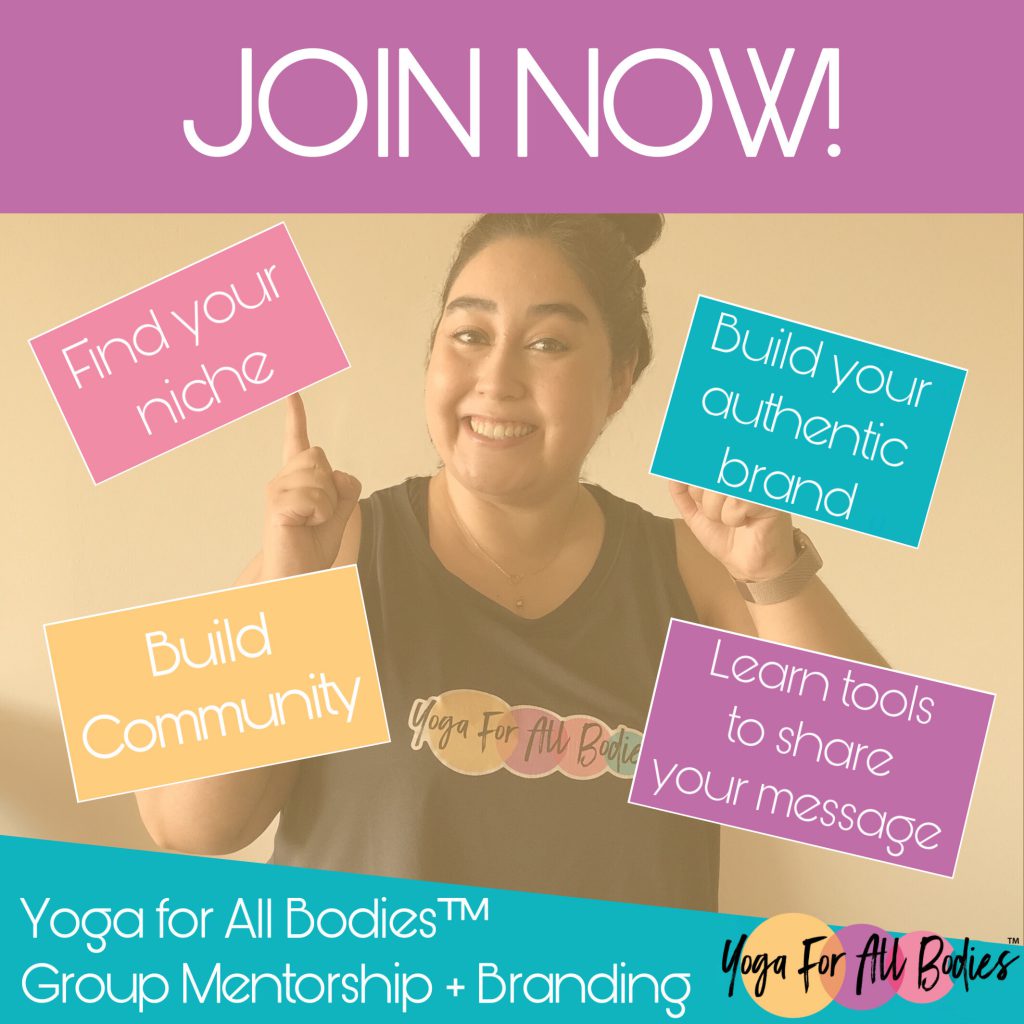 WEEK 1: The why? finding your essence and niche

WEEK 2: The essentials aspects of a professional, trustworthy, and remarkable brand 

WEEK 3: The tools! learn how to share your unique message with the world

WEEK 4: Brand yourself! Shine and standout with your online presence!  

WEEK 5: Email Marketing, how to sell your signature courses and other strategies to be unforgettable! 
IS THIS GROUP MENTORSHIP FOR ME?
This group Mentorship is for yoga teachers or soon to be yoga teachers that are READY and COMMITTED to put themselves out there to create their own and authentic brands!
You know you have an amazing message to share with the world but you're not sure how to do it 
You believe in yourself and in what you have to offer as a yoga teacher
You are ready to show your personality, voice, face, and passion to build your authentic brand
You are ready to stand out as a yoga teacher!
READ WHAT THE PARTICIPANTS OF PREVIOUS CYCLES ARE SAYING!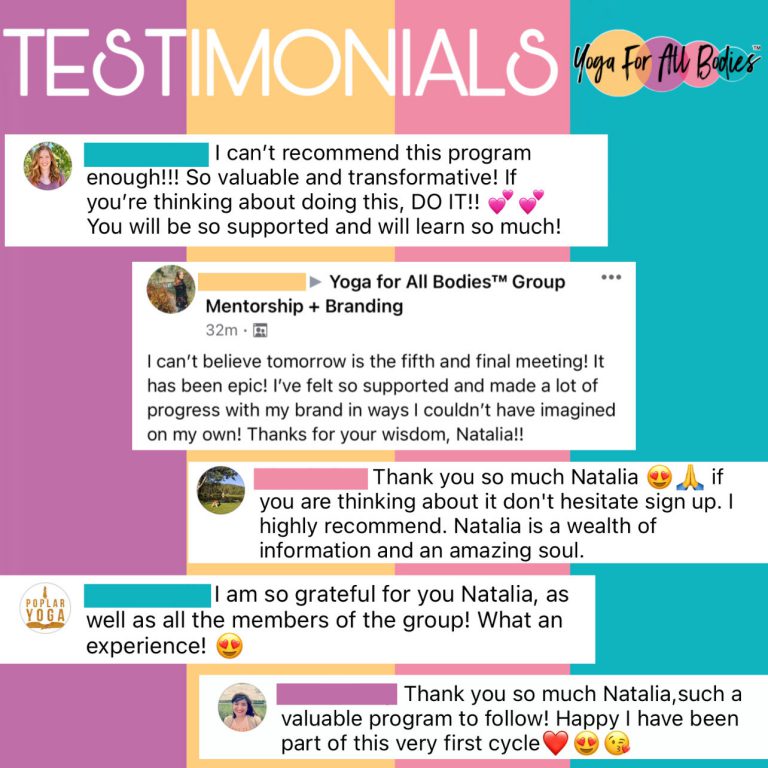 YES! I'M READY TO WORK AND SHARE MY UNIQUE MESSAGE WITH THE WORLD

SAVE YOUR SPOT NOW! AND SAVE SOME MONIES IN THIS GIVING THANKS SALE!: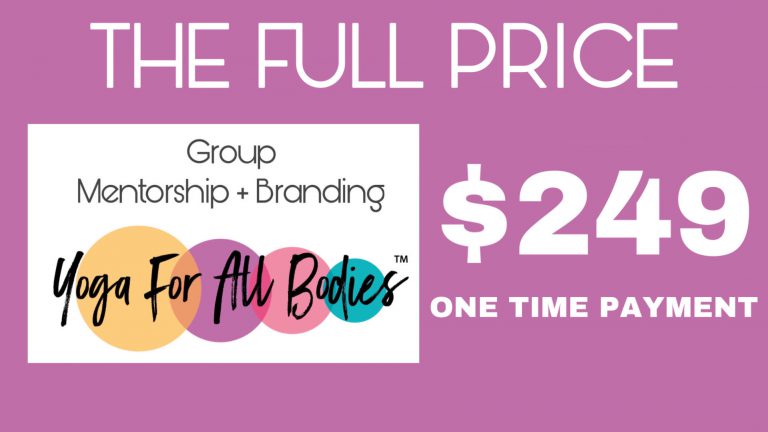 HOLA AND HELLO! I'M NATALIA, THE FOUNDER OF YOGA FOR ALL BODIES™...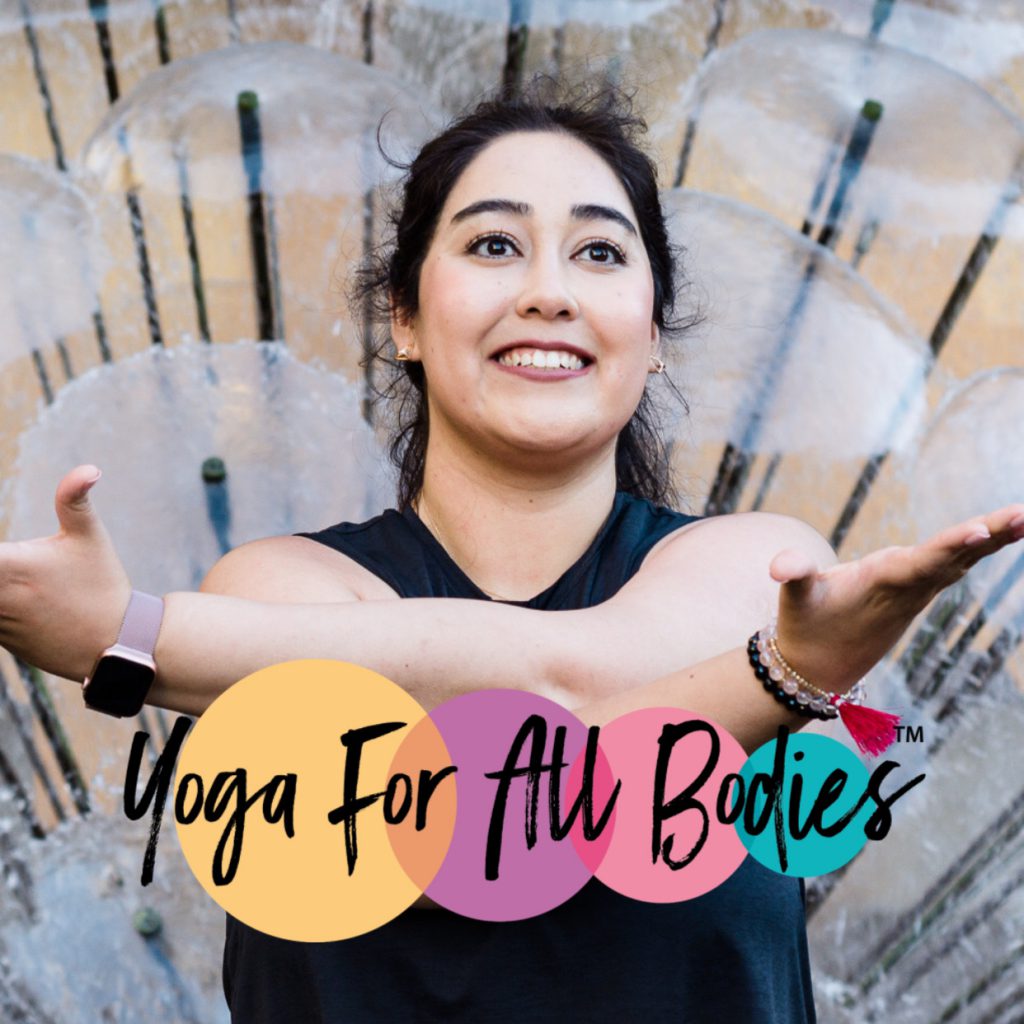 I'm Natalia Tabilo a Body Positive 500 RYT yoga teacher, Journalist and communications specialist, and the founder of Yoga for All Bodies™. I was made in Chile, and now I live in San Francisco, CA.
I love creating real, meaningful connections trough my online presence to share the important message that yoga is truly for all bodies!! 
More than anything, I love teaching! I train yoga teachers on how to make the practice accessible, welcoming and inclusive to everybody no matter their size, shape, abilities, age, or experience with yoga! and now I'm excited to share my experience and knowledge in communications and marketing to help yoga teachers create remarkable brands to share their message in an effective and impactful way. 
Got more questions? write to me at natalia@yogaforallbodies.com