Welcome to the
Business + Branding Master Class:
Online Presence for Yoga Teachers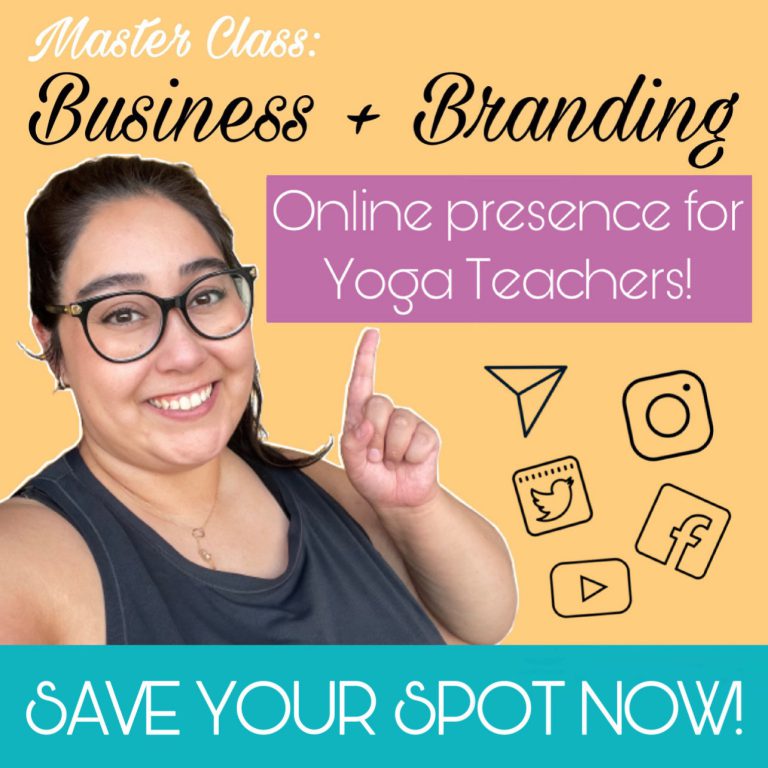 YES! THIS MASTER CLASS IS FOR YOU!
– Are you a Yoga Teacher, or soon-to-be Yoga Teacher that wants to learn how to start and rock your online presence? 
– Do you need help to position yourself as a yoga teacher and expert in what you do in the Online world?
– When you hear: website, social media, YouTube, teaching online, landing pages, newsletter, Instagram… you have questions, confusion and you don't know how to do it?  
– Do you want more tools to share your unique and important message with the world in an effective way? 
Then YES YES YES!! this Master Class is for you! 
READ WHAT PREVIOUS PARTICIPANTS OF BUSINESS + BRANDING EVENTS ARE SAYING!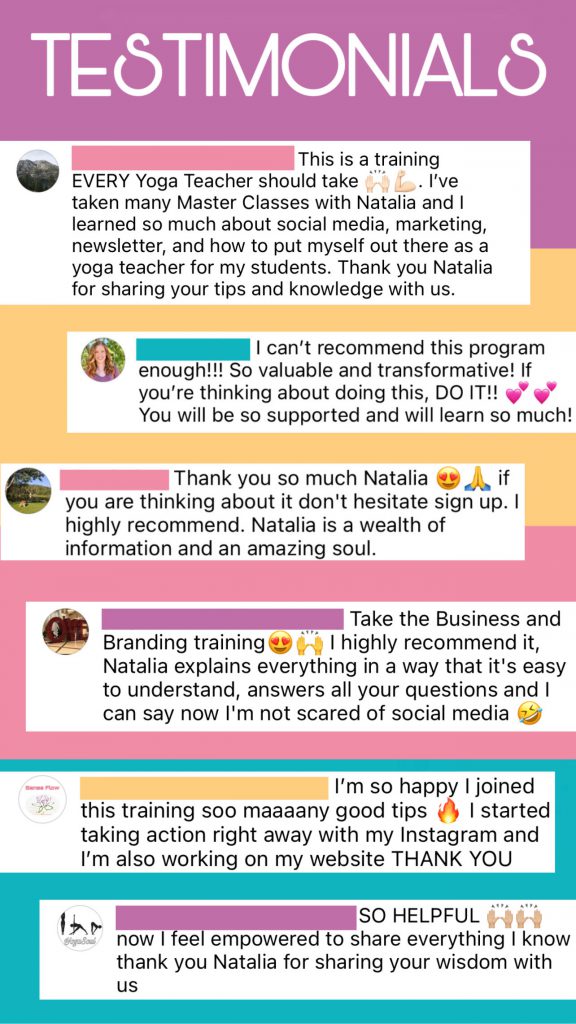 MORE DETAILS ABOUT THIS BUSINESS + BRANDING MASTER CLASS:
– The Yoga for All Bodies™ Business + Branding Master Class will take place on Friday, June 18th at 4 pm PST via Zoom
– This Master Class is 2 hours long + all questions asked! 
– Yes! there will be a replay available after the Master Class in case you can't make it to the Livestream
– This Master Class is open to all the Yoga Teachers, soon to be Yoga Teachers and anybody that want more tools for their business! 
– This Master Class counts as 2 hours of Continuing Education with Yoga Alliance
– After you register you will receive all the details for the Master Class (Slides for you to take notes will be sent closer to the event date) and the Zoom link
– Do you have more questions? Write to me! natalia@yogaforallbodies.com
– All sales are final! In case you can't make it to the livestream a replay will be available. 
P.S: it is highly recommended that you join the live class so you can ask all your questions and that you have an idea about what is your yoga niche so you can take action right away aftert this Master Class! If you need help finding your niche you can get the replay of my Master Class: Niche Down to stand out! HERE.
YES! I'M READY TO LEARN HOW TO NICHE DOWN!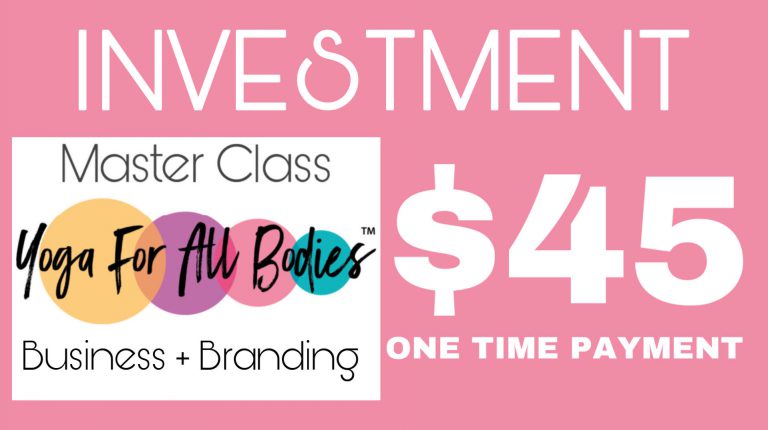 HOLA AND HELLO! I'M NATALIA, THE FOUNDER OF YOGA FOR ALL BODIES™...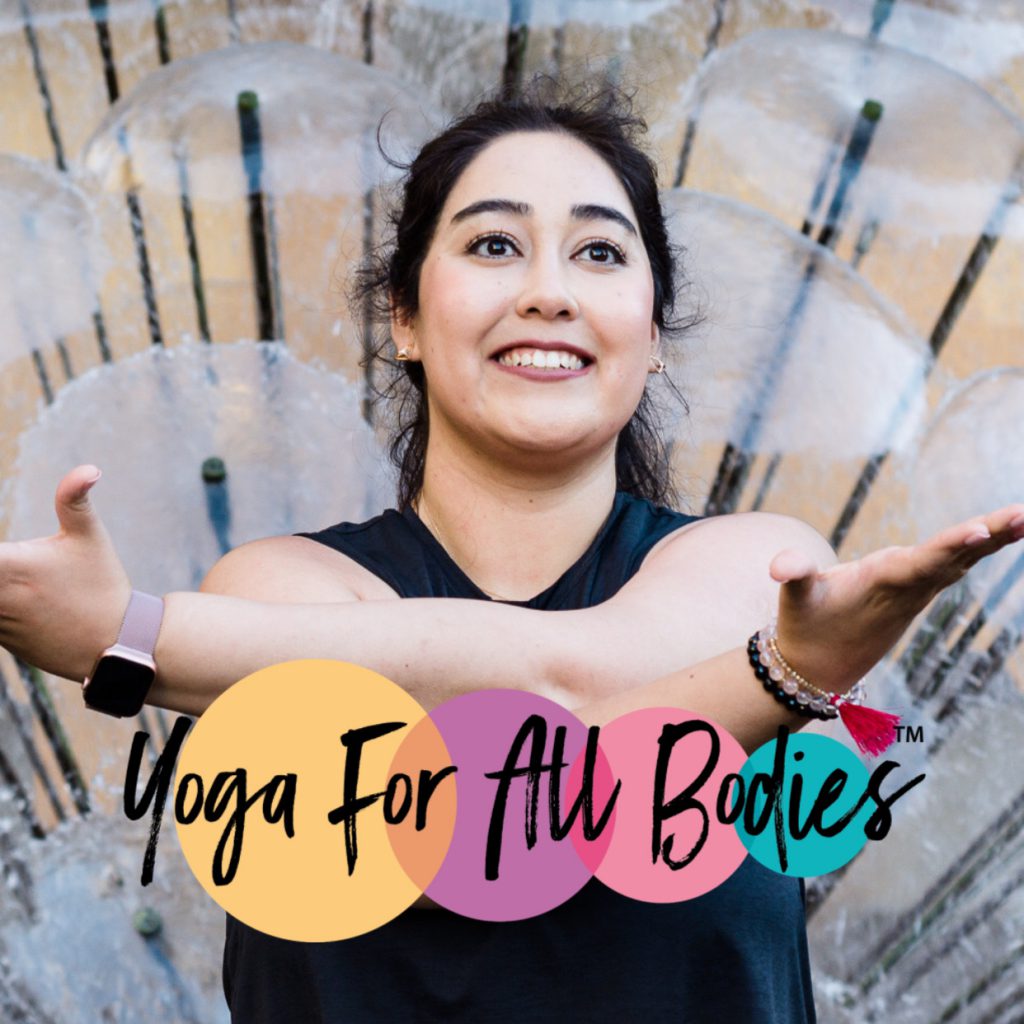 I'm Natalia Tabilo a Body Positive 500 RYT yoga teacher, Journalist and communications specialist, and the founder of Yoga for All Bodies™. I was made in Chile, and now I live in San Francisco, CA.
Yoga has helped me become friends with my mind and body and that's why I want to share it with others. After feeling left out and unseen in yoga classes, I decided to create Yoga for All Bodies™, an inclusive and accessible practice based on choices to meet and enjoy your body where you are today. 
I train yoga teachers on how to make their classes accessible and welcoming to All Bodies! And I help Yoga teachers or soon to be yoga teachers, to start their online presence and rock their online business! 
Got more questions? write to me at natalia@yogaforallbodies.com